Shopping Bags – Promotional Bag – Printed Bags – Tote Bags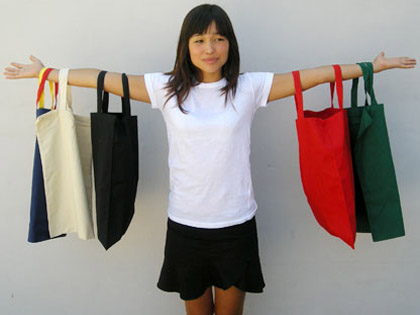 Rarely will you come across a supplier with a range of Shopping Bags, Tote Bags and Promotional Bags like T-Shirt Magic. Over the years we have been fortunate enough to supply some of Australia's leading brands with Printed Shopping Bags which were either given away or sold to their customers.
Reusable Shopping Bags and Promotional Bags are not only good for the environment, they also have the advantage of being continuously used by customers for a variety of applications. Statistically having your brand name, business name, logo or design on a shopping bag or promotional bag mean that 6 out of every 10 people you buy or are given one will reuse it at least 11 times. The secret is to provide a bag which is both practical and most importantly durable. If you want people to keep using a bag with your logo / design / brand name / business name on it you MUST give them something which will last!
That's where we come in. Even with our highly competitive pricing, we only supply high quality durable Shopping Bags, Tote Bags and Promotional Bags to ensure that our clients get the maximum exposure for their business.
We are also experts at Bag Printing. Depending on the size, colour(s), design you want printed our expert staff will advise you on the most cost effective method available. This is why we are considered one of the leading Shopping Bag and Promotional Bag suppliers in Australia. Our warehouse is continually stocked with all the popular designs and our state-of-the-art printing facilities ensure that your bags are finished to your exact requirements.
Below you will find links to all our bag designs. Click on the one / ones that interest you and contact us for a quote or for more details. With our many years of experience in the industry we are always in a position to help and advise you on making choosing the right bag to suit your needs.
You may also view our bags classified by material; Cotton, Hessian or Jute, Polypropylene & Polyester bags.
| | | |
| --- | --- | --- |
| Calcutta Bag | Delhi Bag | Gandhi Bag |
| Mall Bag | Campus Bag | Bondi Bag |
| Shopping Bags | Tote Bag | Beach Bags |
| Double Bags | Resort Bag | Shoulder Bags |
| Souvenir Bags | Conference Bags | City Bag |
| Carrie Bags | Wine Bags | Sling Bags |
| Box Bags | | |