Shopping Bags –

Printed Shopping Bags

–

Bag Printing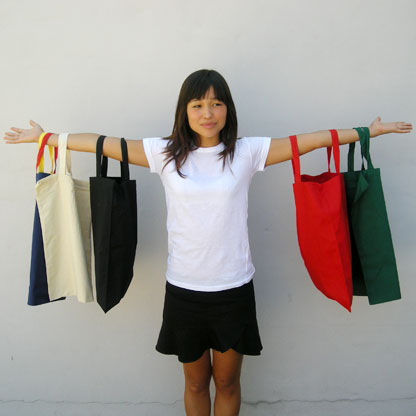 Over the past 10 years Shopping Bags have seen a HUGE increase in popularity. With virtually all the big name retailers either selling or giving away reusable Shopping Bags to their customers many smaller retailers have followed suit.
Although on the surface reusable shopping bags appear to serve one main purpose, ie. reducing the amount of plastic bags we use when we shop, the biggest return to retailers who provide reusable shopping bags is the continuous display of their business name / logo / brand name which is printed on the side of each bag.
T-Shirt Magic is one of Australia's leading Shopping Bag suppliers. Made from 100% biodegradable cotton calico our bags are durable and represent GREAT value for money. We can also print your business name, logo, product branding on your bags with our state-of-the-art printing facilities.
Dimensions: 38 cm wide x 48 cm high. 2 handles each 2.5 cm wide x 37 cm long.
Colours: Natural, White, Red, Navy(plain) and Black. Weight: 140GSM
For quotes, orders and all enquirers on Shopping Bags and Bag Printing click HERE to go to our easy contact form or call (02) 9310 1090 during office hours Monday to Friday.